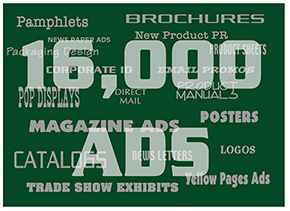 When I was in Junior High School, in the 1950's, I took a Commercial Art correspondence course from Art Instruction Inc. I even did a few "commercial ad projects" back then. In high school I majored in art, and after graduating, in the summer of 1957, I landed my first full-time career job as a layout artist for the Ohio Bell Yellow Pages. Our quota was to design six ad layouts a day for salesmen to present to advertisers. In December of that year I enlisted in the United States Air Force. Although I was trained as a Special Vehicle Repairman, my artistic talents were soon discovered, and I was designing Squadron Emblems in addition to doing promotional advertising for the Officers and NCO clubs. I even did some commercial work on the side for business off base.
After four years of service, I returned to my old job in Cleveland, designing YP ads. I also started a freelance art service. In 1968 I was hired by a publishing firm, as their West Coast Manager, to sell media for their trade magazines in Southern California. I continued my freelance advertising design business in Orange County CA, until 1970, when I opened a full-service ad agency. Tom Smisek Advertising grew to a staff of 11, and we handled many diverse advertising accounts. In 1980 I expanded into marketing consulting, continuing to design and produce logos, advertising, PR, commercials, packaging, trade show exhibits and sales promotion material.
I conservatively estimate that I have averaged about one advertising element every working day of my six-decade career. That's a total of about 16,000 advertisements, and I am still going. Not sure, but this could be a world record.