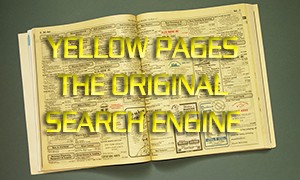 Today just about everyone uses an Internet browser to find whatever they are looking for. It wasn't always like that. In the 1950's through the 80's, the Yellow Pages were the sole reference source for locating sellers and services. The YP had an exclusive as the most comprehensive universally used buyer guide available at that time. Anyone looking for a product, service, a phone number or address for a local business could find it in the classified phone book. It was fast and easy. Their advertising slogan was "Find it fast in the Yellow Pages" Check out this commercial from 1957.
Latter the marketing slogan was, "Let your fingers do the walking". This catchphrase was designed to let folks know they did not have to walk from store to store to find the products they were shopping for. They could thumb through the phone book find the location of a nearby retailer or call first. The Yellow Pages was unchallenged as the primary go-to source for anything anyone needed or wanted to buy. I know as I started my advertising career designing Yellow Page ads in 1957, and later moved into sales. Telephone companies, like the Bell System, started phone directories as a service. All business phones got a free listing but the ads gave businesses a competitive edge. So YP soon became a revenue generating advertising media. So much so, independents like RH Donnelly began publishing overlapping competitive phone books.
Marketing studies indicated that 50% of the folks using the YP's knew the business they were looking for and just needed a phone number or store location. The other 50% had a need and were looking for a local business. "My sink is plugged and I need a plumber", or "Where is the nearest German Restaurant?" Ironically these same principles apply to Internet searches today.
While Yellow Pages was the first Directional media, today it is Google, Bing and Yahoo. Directional media steers prospects to sources where to buy. Promotional Media, like radio and TV commercials, print ads and direct mail generate interest in products or services, and motivate the prospective buyer to take action. So Promotional Media and Directional Media work in combination to attract interest, communicate features and benefits, motivate the prospective customer and ultimately lead them where to buy.
Yellow Pages is consider and outdated by the younger generation, but still is used today as it is more localized. YP Directories are available in print and on-line. While printed directories are easier to use by some, Online Yellow Pages offer links to websites, and printable coupons.  Currently a company called My Free Yellow Pages is doing a major radio campaign to promote their YP business.
Is Yellow Pages advertising right for your business? It can be if you are a local retailer or service business. To design the most effective ad and assure you are selecting the right media, consultant with an independent marketing professional for an objective recommendation. Tom Smisek was the highest rated Yellow Pages Representative at The Ohio Bell Telephone Company in 1966 –'67 and remains an expert in Yellow Pages advertising in Orange County California.