A bad brochure design can cost your company money!
It costs just as much to create a bad brochure design in Orange County or catalog as it does to create a GREAT brochure or GREAT catalog.
The only difference is the results. Yes, a poorly designed catalog or brochure can turn off a buyer, so why waste money when you can improve your sales with a great design.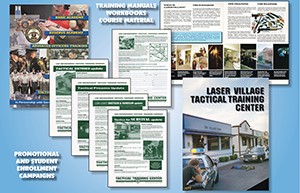 We have been designing catalogs, brochures and training manuals for over 30 years. Our creative team are experts when it comes to training manuals for Law Enforcement, Firearms, and Disaster Preparedness and Business Training. We are not limited to these industries. Is your advertising collateral effective?
For a limited time we are offering a FREE EVALUATION of your current brochure. 
Contact us to discuss your brochure or training manual needs. Or better yet, give us a call at (714) 649-2528  Serving ORANGE COUNTY marketers since 1980.