Does your catalog need updating?
If you attend any trade shows, or mail your catalog to potential customers, be sure the new catalog design has all your current products indexed properly, are easy-to-find with good photography, and has clean graphics.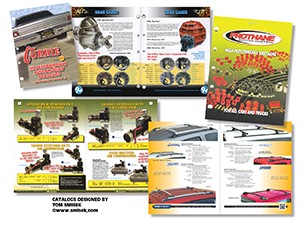 Get a FREE evaluation of your current catalog before you add new products to the old design.
Our Catalog Design and Production division in Orange County has been creating superior catalogs for clients since 1980. We do all the design, photography and production in-house to save you time and money! We design catalogs in most industries, from automotive to industrial products to medical supplies. Be ready for your next big trade show with a catalog that will increase your sales!
Contact us today, or for immediate assistance call us at (714) 649-2528.