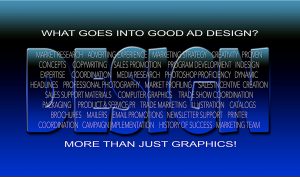 With the popularity of computer graphics software, templates and clipart, just about anyone toying with these elements can call themselves a Graphic Designer. Some businesses use Freelance Designers or in-house staff to layout their advertising materials. Primarily because they are cheaper than Professionals, and management does not place a high value on innovative quality marketing. While Freelance Artists do some nice artwork on stand-alone projects, they lack extensive marketing expertise and the attributes required to design, produce and manage an inter-related, comprehensive marketing program.
A Professional Marketing Consultant employs a combination of promotional and sales experience to develop, create, produce and implement all related elements in an advertising campaign for maximum effectiveness. The most valuable qualities that a Marketing Professional provides, is outside objectivity and creativity, offering cost effective solutions to sales and marketing problems.
It starts with a Marketing Plan. A seasoned Marketing Pro develops a strategy then utilizes a combination of dynamic concepts, headlines and motivational ad copy … employing professional photography… with a message targeting a market… and by selecting the right media. Combining advertising with PR will maximize response. Promotional collateral and sales support materials like Brochures, and Catalogs are essential support elements that enhance sales, and must be designed as a companion to the theme .
An all-inclusive, orchestrated campaign of ads, collateral, PR and sales support produces optimum response, sales and profits. This is what a Marketing Professional does. Whether your advertising has been done in-house, by an outside designer, a printer, or an advertising agency, it would be in your best interests to consult with a Marketing Specialists. Marketing Consultants services are offered on a consultation, project or contract basis to accommodate any client budget. For more information contact: Tom Smisek Marketing Consultants, an Orange County California based advertising/marketing firm. http://smisek.com/