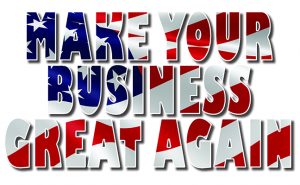 Nothing can disrupt a bustling economy like a pandemic. That is exactly what happened with the Coronavirus shutdown. Because many companies had to completely stop operating, employees were laid off and the supply chain was disrupted. Make no mistake America is coming back stronger than ever before! So, what can you, as a business owner do now? How can your business quickly and efficiently recover and regain the momentum you once had?
Plan your recovery – Take this downtime to objectively evaluate your operation. What can you can do to change or improve your operation. Confer with colleges and key employees. Contact a Marketing Consultant. Write out a business plan.
Establish a safe environment –  Employees and customers alike need to know they are in a safe, clean and healthy environment. Regular cleaning and disinfecting all contact surfaces will reassure them. Provide hand sanitizers on counters and in restrooms. Consider increasing janitorial services. Post signage to inform patrons and reassure employees you are offering a healthy workplace. Some supermarkets are installing a Plexiglas window, like a bank teller, at their check outs. Promote Social distancing,  some retailers stripe isles with 6' spacer bars. These may not work for you, but be creative and your customers will appreciate it.
Health Checks – Purchase a scan thermometer. Check employees daily when they come to work and any time one feels ill. Even offer free temperature checking to customers. While this might seem a bit unusual, it will put the most apprehensive at ease and demonstrate your concern.
Seek Government help – log on to: https://www.usa.gov/coronavirus  And explore financial aid for your business and employees. Inform your workforce of your efforts and the options that may apply to them. It will boost their moral. Assist them in obtaining benefits.
Offer shopping options now – Essential businesses that are allowed to remain open are offering customer incentives to shop by phone and free local delivery. This does three things: maintains workforce employment… services and retains customers… and makes sales which generate income. If it works for you consider it.
Keep in contact with employees – In these times of stress, anxiety and uncertainty it is important that you reassure your workers and staff that you are being proactive in getting your business back on line as soon as possible. Personal phone calls and email notices from the boss are great a way to stay in touch. For large corporations, the CEO or President may not be able to be in touch with the entire work force, so have managers and supervisors deliver your personal message.
Contact your Suppliers – Every business relies on delivery of materials, supplies and outside contractors. Call to find out how they are doing and if and when they are prepared to provide your firm with goods and services. You may discover you will need to consider an alternate sources, should your regular providers be unable to deliver.
Keep your Customers Informed ­– Utilize your email database and mailing list and launch a positive promotional campaign. Reassure your customer base with upbeat collateral, informing them of your status, special offers, business hours and come back status.
Have a Grand ReOpening – As soon as you are fully operational, do a major sales promotion, with signs, banners, mailers, social media blitz and offer "We're Back" specials. The objective is to not only bring back past customers, but attract new buyers. This may not be a high-profit venture but a good-will investment in future sales.
Customer Inaction – Your staff must be aware that if they are ill not to come to work. You do not want an employee coughing or sneezing anywhere near a customer. Post a sign "PLEASE EXCUSE US IF WE DON'T SHAKE YOUR HAND."  This will add reassurance to your customers. It's a good idea to observe a six-foot distance between people if at all possible. Orient your staff to be aware of customer concerns. Some folks are more laxed and not overly concerned however,  a few may be over cautious… respond accordingly.
Be Pro-Active! The risks being pro-active requires fresh innovative thinking, a dynamic marketing strategy, and a capital investment. You may ask: What do I need to do? When should I do it? How to do it? Who is going to do it? To answer these and other questions, consider bringing in a marketing professional to objectively put things into perspective for your business and design the elements you will need to implement an effective marketing campaign.
For more information contact: Tom Smisek Marketing Consultants Orange County California