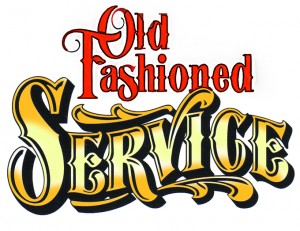 Today when the Internet seems to be the place where buyers are flocking to buy products. Shops and retail stores are feeling the sales pinch. Sure, shopping on-line does offer a wide variety of products at very competitive prices, but what is lacking in the e-commerce world is that personal contact that you get when buying over the counter. Personally, I like to see a product before I buy it. I might have some questions about the features, or to seek advice on installation. And if I do have a problem I can go directly back to that same person where I bought it and get it resolved on the spot.
Call me a relic, an old-timer or even a dinosaur, but I really appreciate the personal service I get when I can talk to a live, knowledgeable sales person. I can discuss options and accessories, see and hold the item, which that makes me feel more confident that I am making the right choice. The information and advice I get at a dealer is the "Old Fashion Service" and that is missing in On-Line purchasing! Dealers have a service advantage if they know how to use it. Yes, "Service" is an important factor for sellers, but many small businesses have not taken full advantage of establishing and promoting service.
Customer Service- Is the interactions and courtesies with customers. Some business owners take it for granted and assume that their customers know they are going to get good service from them, and others just do not know how to organize and capitalize on this key selling feature. Here are some suggestions that can help you establish great customer service for your business.
Outline your Services– What can you give customers that they cannot get elsewhere? To find out, profile your business. Sit down with your employees and make a list of comments, questions and complaints that you have received from customers. Identify what is unique or special to your company. What separates you from your competition? Why do customers come to you instead of going elsewhere? Do you offer greater product knowledge? Installation advice? Product recommendations? Or, is it the friendly manner in which you handle customers?

Listen to your Customers- What do your customers want that you can provide? How can you better serve your existing customers and attract new business by filling a void? There are several ways to garner this information. One is simply ask regulars, jot down their responses and compile the answers. Another is to conduct a more formal survey.
What changes would you make -Are there problems? Check out what is lacking in your interaction with folks that shop at your business. Use your Business Profile, and customer input as the blueprint to in developing a service business plan. Outline what changes you might make and what you plan to offer or add. It may be that your businesses is running fine and just needs a minor tune-up, or you have to give some serious thought to reorganization.

Developing a great Customer Service program- Get to Know Your Regulars they are the backbone of your business. You may have a great memory for faces and details, but if you want to really be organized and expand your base, I suggest a systematic structure of gathering and accessing information. You can start out with a simple VIP Customer Card, call it a "survey". Most shoppers will be flattered to fill out a "VIP" card and that you are asking them for their input. As an incentive you can offer a freebee, a discount or a drawing. Compile this customer info into a Database Management Software program. Now you can sort and access customer files, and also adds fields for sales activity. You will be able to use this information in marketing and advertising. To promote your service, you may use new Social Media methods or rely on Old School Advertising.
Train your employees- Set an example for your staff, they will follow your lead. Lead by example, so that when you are not present, your customers will still receive the same five-star service they have come to expect from you. Professional sales training is available in Orange County.
Give Personal Attention- Let your employees know that you are always available if a customer has a question or a problem that they cannot address to come get you.
Address Problems Immediately- Inevitably you will encounter some customer complaints. Personally handle every problem. It is always better to offer "Service" rather than money. By offering an extra service you are giving up time instead of cash.

Make every customer feel special – Ask them questions about their interests. Show an interest. Invite them back. Make your Customer Service Plan and get your employees on-board to implement it. The superior personalized service that you offer will generate goodwill and will be perpetuated by word of mouth, which we all know is the best form of advertising.
Get professional Assistance Tom Smisek is Marketing Consultant based in Orange County California and offers Marketing Consultation. www.smisek.com