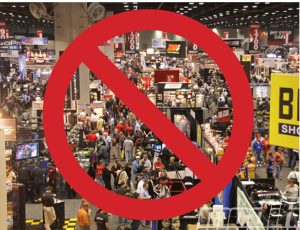 Due to COVID-19 concerns, many Trade Shows will not be opening.  An example is the 2020 SEMA Show which has been canceled. The annual automotive aftermarket trade show was scheduled to be held Nov. 3-6 at the Las Vegas Convention Center. Other shows will soon be announcing cancellations as well.
Trade Shows present a lucrative opportunity for marketers to gain exposure to vast numbers of potential buyers. A well planned and executed trade show exhibit will make a dynamic impression on prospective buyers and turning that interest into sales. For many marketers, Trade Shows are a major sales promotional element in their marketing strategy for presenting new products, reaching new customers, maintaining rapport with existing distributors and making sales.
So, what can marketers do when a Trade Show is cancelled? First, take a deep breath and consider an alternative marketing strategy. Please understand that the market for your products and services has not gone away. Customers are still there. Realize that you, along with all of your competitors, are in the same boat. So, whoever comes up with the most dynamic marketing effort will capture the lions' share of the coming years sales.
Be pro-active. Reallocate the budget you had planned on spending to be an exhibitor, into a different type of campaign. It is essential to begin planning, designing and assembling the elements of your 2021 marketing now. Don't wait until after the first of the year or you will be three to four months behind.
Contact an experienced automotive aftermarket Marketing Consultant. They will provide an objective analysis of your products, market and discuss options for marketing unique to your business, objectives and budget. Upon approval they should begin immediately designing and producing the elements of your campaign along with a media timetable for implementation. So, you can use this opportunity to generate sales despite the trade shows cancellations.
For information: Tom Smisek Marketing Consultants Orange County California.